The course program, apprenticeships and career development opportunities in the Interdisciplinary Training Program in Education Sciences are designed to provide advanced training in methods of causal inference in education sciences and to enrich the capacity of the next generation of education scientists to engage with policy makers and practitioners. 
Components (for cohorts entering 2021, 2022, and 2023)
ITP Fellows receive tuition remission, health insurance benefits and a $34,000 stipend per year of ITP funding received.
Courses in methods of causal inference, statistics, experimental design and interdisciplinary coursework lead to a minor in Education Sciences.
The research apprenticeship allows graduate students to work under the guidance of professors on campus  or researchers at partner organizations to advance skills in designing and implementing rigorous causal, disciplinary research within an applied educational context.
A translational research internship supports students in developing competencies to collaborate successfully with  practitioners and policy makers to bring research to bear on a problem of practice.
Up to $2000 in conference travel funds are available for each Fellow during each year of ITP funding.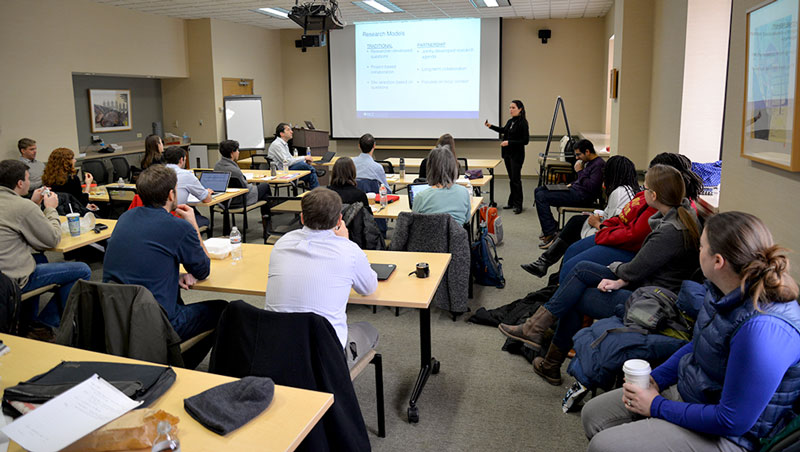 Design and implementation of field-based randomized studies in schools and other complex, real-world settings
Statistical analysis of quantitative survey, observational, and assessment data on education, with special attention to questions of causal inference
Translation of research to maximize impact on educational policy at the federal, state, and local levels.
---
Translational Research
In the ITP program students will learn translational research skills in order to help them facilitate the successful transfer of educational research findings to practice and policy, where the findings from their work may create improvements in education. ITP Fellows will experience translational research and build competencies through their apprenticeship experiences, through coursework, and through participation in ITP Seminars and workshops.
Competency in Translational Research
In order to engage in translational research, researchers must communicate effectively with a variety of different audiences- policy makers, practitioners (teachers, administrators, support staff) and other academics. Translation is not only about bringing the research to life; it's about translating it in a way that can be understood and engaged by different audiences.
Most specifically, translational competencies are defined as:
(1) the ability to facilitate the emergence and development of new ideas and
(2) the ability to successfully engage with communities that can benefit from research.
What do we mean by translational research?
The act of translating research can take several forms:
Translating scientific research for policy makers and practitioners. For example, this could take the form of reviewing research literatures relevant to a particular problem of practice and presenting that review in a form appropriate for a specific non-academic audience or developing and refining a survey tool for use in an applied setting.
Producing original research relevant to a particular problem of practice and presenting that review in a form appropriate for a specific non-academic audience.
Supporting the design and potentially the conduct of original researchrelevant to a particular problem of practice and presenting that review in a form appropriate for a specific non-academic audience. Examples could include helping design or evaluate a new curriculum or designing an evaluation of a new disciplinary policy for a school or school district.
Bringing educational research 'to market' by designing a program, policy or practice informed by research. This design may be in collaboration with a policymaker or practitioner (active engagement) or in coordination with a policymaker or practitioner work (informed by but not in collaboration with the target audience).